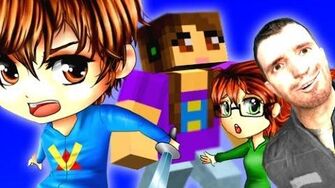 VenturianTale 1-Year ANNIVERSARY SPECIAL! is a video, the special episode in A Minecraft Tale. It was filmed to celebrate the first year of the channel, and the four siblings visited several sites: Ventopia, Birchwood,the Nether Portal, and the End Portal. 
Official Description
Edit
My siblings ImmortalKyodai, BethanyFrye and HomelessGoomba return to the land of Pigaria in Minecraft to celebrate our 1-year Anniversary of our videos! Watch as we journey through the land to revisit old areas like Ventopia, Birchwood and more!
Appearances
Edit
Jordan Frye
Bethany Frye
Isaac Frye
Cierra Frye
This video introduces the intro that would be used in every VenturianTale video from this point on.
Ad blocker interference detected!
Wikia is a free-to-use site that makes money from advertising. We have a modified experience for viewers using ad blockers

Wikia is not accessible if you've made further modifications. Remove the custom ad blocker rule(s) and the page will load as expected.