"I got buns of iron!"
―The Flash
The Flash
is a toy owned by
The Toilet Toucher
. He, along with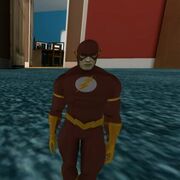 Johnny Ghost, Batman, and 
Johnny Toast
 explored the Toilet Toucher's basement.
He was bought by the Toilet Toucher at an unknown time.
He was first encountered in the Toilet Toucher's room, along with Batman. He traveled with Ghost and Toast, until they were all killed by Prince Fang. He then found himself in Toucher's basement, and fought to survive along with Batman, Toast, and Ghost. 
He has hundreds of copies of himself.
When Toucher gets mad at him, he tears his limbs off and throws him in the oven.
He is often scolded by Ghost for not wearing a cape with his skin tight clothing, as it can be revealing from the behind.
Ad blocker interference detected!
Wikia is a free-to-use site that makes money from advertising. We have a modified experience for viewers using ad blockers

Wikia is not accessible if you've made further modifications. Remove the custom ad blocker rule(s) and the page will load as expected.