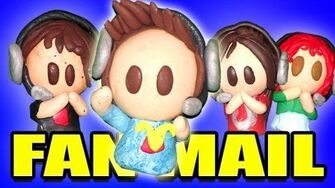 http://www.youtube.com/watch?v=IPHAiILr87o
TOY FIGURINES! -- VenturianMail Ep. 1 is the first episode in VenturianMail. All four siblings show off little chibi clay figures of each person: Venturian, ImmortalKyodai, BethanyFrye, and HomelessGoomba. Also included was a rubix cube and a Goomba for Homeless, all four elements from the Last Airbender, Korra, and Zuko for Bethany, and Pikachu and a Pokeball for Immortal. The last one was Vahl with a sword and bow. 
Ad blocker interference detected!
Wikia is a free-to-use site that makes money from advertising. We have a modified experience for viewers using ad blockers

Wikia is not accessible if you've made further modifications. Remove the custom ad blocker rule(s) and the page will load as expected.