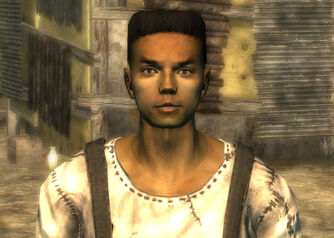 Shorty was a character in A Fallout Tale, and was killed by Raiders.
Background
Edit
Shorty got his nickname from his friends, due to his short temper: Short-T
Shorty was kidnapped by Super Mutants along with Red. They then were thrown in an old Jail Cell in the Germantown Police HQ. After a while he was seperated from Red and brought to the kitchen in the basement for slaughter.
Cywren rescued him,along with Quasar. They escaped the station but he was shot and killed by a stray Raider under a collapsed bridge. The thing that most upset Red and Cywren (after his death) was the fact they were no more than fifty meters from Big Town. If he had just made it up from the ditch left behind from the half evaporated river Big Town and it's residents were clearly visible.
Ad blocker interference detected!
Wikia is a free-to-use site that makes money from advertising. We have a modified experience for viewers using ad blockers

Wikia is not accessible if you've made further modifications. Remove the custom ad blocker rule(s) and the page will load as expected.