Red is the doctor in Big Town. She and Shorty got kidnapped by Super Mutants, but Cywren saved them . She is between 16 and 18.there was red in just cause 2.
Personality
Edit
Red is Intelligent, very sarcastic, motherly and caring,
Background
Edit
Red is Big Town's doctor. Red's nickname stems from the blood she's always clothed in red and her affinity for the color. She runs the clinic in Big Town, and she is the unofficial mayor and an old girlfriend of a guy named Sticky,
Relationships
Edit
When Red lived in Little Lamplight she taught Lucy all she knew, they looked up to eachother as sisters and they hope to meet again when Lucy turns 16. Lucy is Red's best friend despite the 5-7 year age gap.
Both of them were kidnapped together from Big Town and thrown in a jail cell in the Germantown Police HQ, east of Paradise Falls. After a unknown amount of time Shorty was moved down to the kitchen for slaughtering. Cywren rescued both of them but on the journey home Shorty was killed by Raiders under a collapsed bridge over a small river. This disturbed and upset both Red and Cywren as the river was around fifty meters from the safety of Big Town. It is assumed she was good friends with Shorty before the Super Mutants kidnapped them.
She was rescued along with her friend Shorty from the Germantown Police HQ by Cywren and Quasar. She was delighted and thankful for their rescue. It is possible but unlikely she blames Cywren for not protecting Shorty on the way back from their captors when he was killed by a stray Raider. When she returned to Big Town and realised that Timebomb, who had been severly injured and been in a coma since the Super Mutant raid in which she was captured along with Shorty, had been healed back to almost perfect Health by Cywren, she was relived and in awe and extreamely thankful, she gave Cywren free Medical attention for the rest of her life.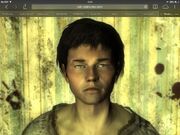 It is asumed that she was a great friend of Timebomb, she gave Cywren free Medical attention for the rest of her life after Cywren healed him while she was kidnapped. This makes it clear that she obviously valued Timebomb's life alot.
Ad blocker interference detected!
Wikia is a free-to-use site that makes money from advertising. We have a modified experience for viewers using ad blockers

Wikia is not accessible if you've made further modifications. Remove the custom ad blocker rule(s) and the page will load as expected.