NANANANA BATMAN! - ARKHAM ORIGINS GAMEPLAY
is a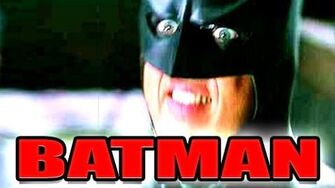 video made by
Jordan Frye
, featuring Montreal's addon to the Arkham series,
Batman: Arkham Origins.
Appearances 
Edit
Real Life
Edit
Characters 
Edit
Companies
Edit
Locations 
Edit
References
Edit
When Jordan enters the medical room of the Batcave, he mentions that it is needed for when Batman is broke in half. This is a reference to many comics featuring Bane, who "breaks" Batman "like paper".
Jordan also mentions "Bat snacks", which is a quote from the Joker from Batman: Arkham Asylum.
Jordan uses the famous quote, "I'M BATMAN!", from the Dark Knight film series.
Ad blocker interference detected!
Wikia is a free-to-use site that makes money from advertising. We have a modified experience for viewers using ad blockers

Wikia is not accessible if you've made further modifications. Remove the custom ad blocker rule(s) and the page will load as expected.