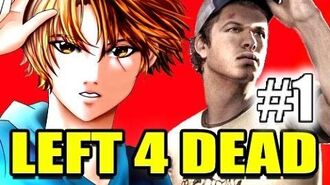 The Infected appear in the game Left 4 Dead 2 as the main antagonists. The Venturiantale group has done many let's plays of this game. Over time they have accumulated many strange nicknames for the regular zombies, as well as crazy mod-induced textures for the zombies.
They became zombies by the virus The Green Flu.
Regular L4D Zombie Nicknames
Edit
Spitter: Miley Cyrus,but it has been called the Green Spitter once.
Charger: Doritos, or Doritos Salesman
Boomer: Goober
Witch: None, But was once called both Batman's Ex-Girlfriend and Rake's Mother
Tank: Daxius. The team signals it's presence by shouting "Summer Sausages!"
Jockey: Gollum, should be called Smeargle (lord of the rings l4d)
Hunter: None
Smoker: None
Teletubbies
Cats
Minecraft Mobs
Mario Characters
Daleks
LOTR Uruk
Ad blocker interference detected!
Wikia is a free-to-use site that makes money from advertising. We have a modified experience for viewers using ad blockers

Wikia is not accessible if you've made further modifications. Remove the custom ad blocker rule(s) and the page will load as expected.