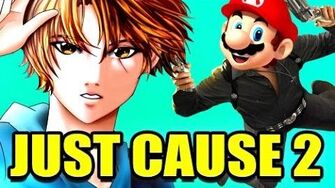 "No more hitting cars. I'm not gonna hit a single car to the end of the bridge. Watch me go, watch me go! Super Mario Brothers, Super Mario Brothers! Dodge 'em all, dodge 'em all! Oh crap!" - 
Venturian at the beginning
I'm The SUPER MARIO BROTHERS! - Just Cause 2 is a video in which Venturian plays Just Cause 2. It was uploaded on April 10, 2014. 
This video has nothing to do with Mario, whereas it is in the title. The only thing is that Venturian says, "I'm the Super Mario Brothers."
Ad blocker interference detected!
Wikia is a free-to-use site that makes money from advertising. We have a modified experience for viewers using ad blockers

Wikia is not accessible if you've made further modifications. Remove the custom ad blocker rule(s) and the page will load as expected.