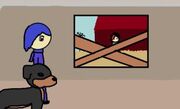 Comet is a dog from the show Qeios. He is a talking dog and is a good friend of Woodrow. He is voiced by GutTC.
Also if you Noticed, the way Gut talks is very quickly and he sounds like a Computer Automated Voice, which making it a little harder to understand. Possibly because of his microphone.
Gut has been invited once (Mentioned that Bethany invited him but still unsure) to a Venturiantale video playing Roblox.
Gut is also known as the voice actor of Bethany's Roblox video project "One Cause".
There was some conversation told that Gut is one of Bethany's friend as how he got into the voice acting and Venturiantale video. However there's no much information said of it.
He loves comic and cartoon, he is also an artist which can be found on his deviantART.
Some people were guessing that Gut has the Russian accent. But he is actually Italian.
Ad blocker interference detected!
Wikia is a free-to-use site that makes money from advertising. We have a modified experience for viewers using ad blockers

Wikia is not accessible if you've made further modifications. Remove the custom ad blocker rule(s) and the page will load as expected.