This is for the Soldiers. For the Government, see Combine Edit
The Combine Soldiers are characters from Half Life 2 (and maybe 3)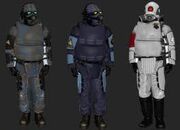 and are a NPC in
Garry's Mod
. They carry many weapons, including
crowbars
,
SMGs
,
Pistols
, and other guns. They are commonly used by the
VenturianTale
 gang to try out weapons on, attempt to take out a foe, or for a gruesome death by a Dinosaur. They are the trans-human soldiers of the Combine in Half-life. 
Ad blocker interference detected!
Wikia is a free-to-use site that makes money from advertising. We have a modified experience for viewers using ad blockers

Wikia is not accessible if you've made further modifications. Remove the custom ad blocker rule(s) and the page will load as expected.