From Wikipedia---
Edit
"To Infinity and Beyond!!!"
Buzz Lightyear is a fictional character in the Toy Story franchise. Buzz is a toy space ranger hero according to the movies and action figure in the Toy Story franchise. Along with Woody, he is one of the two lead characters in all three Toy Story movies. He also appeared in the movie Buzz Lightyear of Star Command: The Adventure Begins and the television series spin-off Buzz Lightyear of Star Command, as well as the two film sequels. His often repeated catchphrase is "To infinity... and beyond!" which is a variation of the line "Beyond the infinite" that appears as a title card in Stanley Kubrick's 1968 film 2001: A Space Odyssey as "JUPITER AND BEYOND THE INFINITE".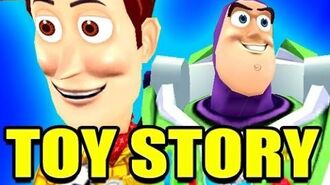 Tim Allen voiced the character in the Toy Story film trilogy and the Buzz Lightyear movie, while Patrick Warburton provided Buzz's voice for the TV series, and Pat Fraley voiced him for the video games and the attractions in Disney Parks.
He appeared in Gmod BUZZ LIGHTYEAR Toy Story Mod!(Gary's Mod).
He also appeared in the first and only episode of Toy Story 3: The video game gameplay.
Appearances
Edit
Just Cause 2
Gmod
Toy Story 3 gamplay
Ad blocker interference detected!
Wikia is a free-to-use site that makes money from advertising. We have a modified experience for viewers using ad blockers

Wikia is not accessible if you've made further modifications. Remove the custom ad blocker rule(s) and the page will load as expected.