Boysee
 was 
Vahl
's first horse until he died.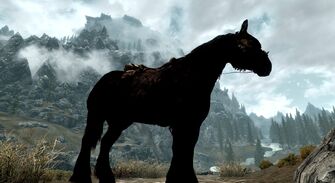 When Venturian turned on the Tropical Mod, Boysee randomly died. Vahl then found Bubbles, Boysee in his ghost form. After losing Bubbles, Vahl was without a horse for quite a while, until Boysee made a final appearance on the last "Skyrim Tale" episode (Ep. 200).

Ad blocker interference detected!
Wikia is a free-to-use site that makes money from advertising. We have a modified experience for viewers using ad blockers

Wikia is not accessible if you've made further modifications. Remove the custom ad blocker rule(s) and the page will load as expected.