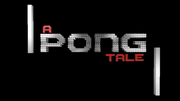 A Pong Tale was VenturianTale's 2015 April Fools project in 2015. In the series' one episode, Venturian (known here as legitsniper46) tricked viewers into thinking they were quitting their other games (Garry's Mod, Just Cause 2 etc.) and instead they were only playing Pong, the "hardest of corest video games."
Ad blocker interference detected!
Wikia is a free-to-use site that makes money from advertising. We have a modified experience for viewers using ad blockers

Wikia is not accessible if you've made further modifications. Remove the custom ad blocker rule(s) and the page will load as expected.